Historical Custom Orthomosaic
Orthomosaic is useful when analyzing an area in relation to its wider setting, identifying objects or doing planimetric measurements, either for a particular year or for historical comparison.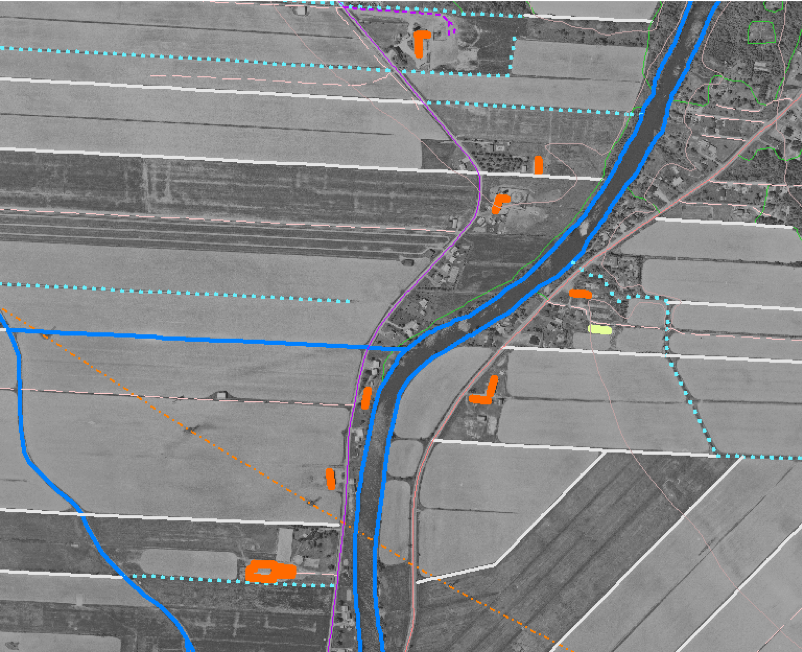 Orthomosaic sample from analog aerial photos / overlap with topographic map 1:20 000
You have to analyze the evolution of a large territory over time?
At Geoselec, we can help you by generating an orthomosaic made from historical aerial photographs. You can look for available images of your area with our research tool. For optimal results, our dedicated team will be glad to discuss your needs with you first. We can also perform the research for you. Benefit from quantity discounts when applicable.
What are orthophotos and orthomosaics?
An orthophoto is an aerial photograph that has been georeferenced and rectified according to known terrain data. The geometry has been corrected so that each point can be laid out on a flat map.
An orthomosaic is a merging of two or more orthophotos.We offer this product only for analog photos.
How do I order a custom-made historical orthomosaic?
First of all, if your area of interest is large (i.e > than 5 photos), we invite you to contact us before starting your search.
If the area you are looking into is smaller, here are the steps to follow:
Search your area (Search by polygon and Search by shapefile are two easy ways to do so)
Select the relevant set of images (year, scale, emulsion)
Select the Custom Orthomosaic option
Choose the image(s) that mostly cover your area. No extensive overlap is necessary. If the set of images does not cover the whole area, contact us so we can assess the possibility of adding an additional year.
Select the required orthomosaic type.
Add to cart and proceed to payment.
What happens after ordering a historical orthomosaic?
A orthomosaic project can be complex. We have to make sure of certain parameters before starting work on it. The steps are as follows:
A technical adviser will contact you to validate the project parameters (confirmation of area, exact needs, required cropping, possible years, complexity, etc.)
He/She will contact you again to agree on deadlines.
We will then begin the orthomosaic process (scanning, orthorectification, monitoring, quality control)